Sermons & Liturgies
Preaching and the Liturgical Arts Shape a congregations worshipping life
Sermons & Liturgy
"Intentional churchgoing involves seeing worship as the primary spiritual practice that informs everything else a person does in the church. Intentional churchgoers believe that participating in church life has the power to transform their lives towards greater depth, joy and meaning. Intentional church life engages members in a community that sees itself as more than a civic institution or club or school; that sees itself as a continuing embodiment of a religious way of life and tradition. That way of life is revealed in stories, images, music and metaphors that speak of ethical imperatives and incarnated truths. It is revealed in worship."
(From "Worship that Works: Theory and Practice for Unitarian Universalists" by Reverends Wayne Arnason and Kathleen Rolenz, Skinner House Books, 2008.)
When I was granted a sabbatical in 2005, I knew that the primary purpose of that sabbatical would be to study worship. I wanted to explore the centrality of worship in congregational life. I was worried that at the dawn of the digital age of easy access to well-produced TED talks, inspiring lectures and even excellent on-line preaching, that the arts of liturgy and preaching could go the way of the rotary phone. I was pleased to realize that excellent preaching and inspiring liturgy is an art form that still has the power to inspire, provoke, heal and transform lives. Preaching and creating liturgy is not only one of my greatest passions, it is one of my greatest skills. Growing up I was drawn to dance, music, and performance and pursued these interests in my undergraduate work in theatre, speech and communications. Creating worship brings together some of my natural talents in music, the spoken and written word, stagecraft and directing.
My understanding of preaching and liturgy is well-grounded in twenty-five years of serving in ministry, is reflected in several preaching awards, and was recognized by the invitation I received from the UU Ministers Association to serve as co-Dean for the "Beyond the Call", a three year intensive training program for colleagues in ministry on preaching and worship.
For the past ten years, I've been working with monthly themes in the planning of the liturgical year, usually co-creating those themes with a team of worship leaders. Sometimes those themes have been inspired by the Unitarian Universalist curriculum "Soul Matters." Other times, I have been inspired to suggest a theme for the entire year, and then subdividing that theme into months. One example was a year when I wanted to hear more stories from members of the congregation. The Worship Associates and I created "Story Year" and each month began with a question: "Tell Me a Story about…(a time when you faced your fears; a mountaintop moment…etc.) From that idea, a monthly Journal (The Chalice) was born, which featured stories from members of the congregation, along with poetry and photography, a video which featured members telling their stories, and an entire year of classes focused on story-telling, story writing and even a story slam for teens! Worship then, should interact with other parts of the church/congregation and inspire programming in all areas of church life.
Working with the laity to create worship is an essential part of my ministry. Lay leaders bring their own passion, creativity, sparks of ideas and their own hopes for worship to the conversation as we co-create worship together. The best "preaching" is not because the minister acts like a solo rock star. It happens within the context of the on-going conversation between minister and congregation, with trained and dedicated lay leaders, with a well-maintained building, and among people who understand that showing up for worship is a spiritual practice.
Over the course of twenty-five years, I've written, prepared and delivered literally thousands of pages of reflections in hundreds of sermons. Most were written for a particular congregation to speak to the theological, spiritual, relational, educational or societal needs of the congregation. That's why it's difficult to identify one's top ten sermons and offer them for review: because sermons are most alive in the moment, never to be repeated again in that same way. And yet, sermons are a unique way of getting to know a minister's style. Are they intellectually focused? More feeling-oriented? Interested in educating or communicating an idea? Or are they usually more "spiritual?" My "style" is all of the above, but they are always guided by one question, "What is religious or spiritual about this idea?" In other words, what makes this a topic worthy of being part of worship, as opposed to a secular lecture or an educational program? My intent is to illuminate some aspect of our spiritual life; to point towards those things which inspire us to lead lives of meaning and purpose. Nothing less will do.
Interim Ministry, 2018 – 2020
Below are a couple of sermons I offered while serving as the interim at the Unitarian Universalist Church of Annapolis.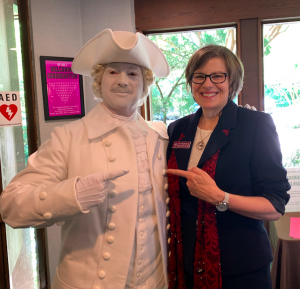 When Statues Move. Sermon. May 26. 2019
For this service, I hired a "Living Statue" who stood behind me for the duration of the service (an entire hour!).  He would "move" at appropriate points in the sermon.  He was a huge hit during our "Wonderbox" (children's time for all ages).
Sermons offered at the Unitarian Universalist Church of Annapolism, Maryland
White Fragility – October 20, 2019.
Ten Rules for Living – January 5, 2020
The Soul's Last Dance – January 26, 2020.  This sermon ended with the band playing Leonard Cohen's "Dance Me to the End of Live" while two members danced the tango on the chancel (stage).  Gorgeous!
Interim Ministry. Several of my sermons can be found on Youtube.  This first video, entitled "Living in the Cathedral of the World," was offered on November 14, 2016 and was part of a joint sermon with a student at Lawrence University (Appleton).  
Fearful Words. A sermon about religious language. October 16, 2016, Fox Valley UU Fellowship.
Sabbatical Ministry. In Fall 2017, I  served as a sabbatical minister in residence at the First Unitarian Church of Dallas, TX.  My Rosh Hashana/Yom Kippur sermon entitled "A Tough Act to Swallow" can be viewed here.
Visiting Guest Minister. Other Youtube sermons were recorded when I was a guest preacher at the All Souls Unitarian Church in Tulsa, OK. They can be found here:
Stealing Jesus with link to Youtube Video, first preached at All Souls Unitarian Universalist Church, February 10, 2013, Tulsa, OK
To Tell the Truth, July 11, 2010 – Part I
To Tell the Truth, July 11, 2010 – Part II
To Tell the Truth, July 11, 2010 – Part III
Preaching at the Installation of Rev. Tamara Lebak, All Souls, Tulsa, OK – Part I, September 28, 2008
Preaching at the Installation of Rev. Tamara Lebak – Part II, September 28, 2008
Settled Ministry. Below is a list of sermons that I've offered in recent years: in my current setting as an interim minister; as Senior Co-Minister at West Shore Unitarian Universalist Church, and as a guest preacher in another congregation.
Afraid of Fear.  A sermon set within the context of "Tell Me a Story about a Time You Faced Your Fears." October 9, 2016. Fox Valley UU Fellowship.
Why An Atheist Goes to Church, West Shore Unitarian Universalist Church.
Who Needs a Scapegoat? – The sermon that caught the attention of Academy Award Winning Director and Author Alex Gibney, which was featured in his film, "Catching Hell" as part of ESPN's Thirty for Thirty Series.  The film is about the role of the scapegoat in sports.  My sermon begins with a story about Steve Bartman, the Chicago Cubs fan who interred with a ball and allegedly cost the Cubs the game – and a shot at the World Series. Gibney found the sermon on the internet and asked if I'd be willing to be interviewed as the religious/spiritual perspective on the role of scapegoats. My portion of the interview can be seen about 2/3rds of the way into the film.  Sermon was preached at the West Shore Unitarian Universalist Church, Rocky River, OH. October 2008.
The Sum of All the Parts – Award Winning Richard C. Borden Sermon, 2003. Cash prize: $10,000.00
Denominational Recognition. At the 2018 General Assembly in Kansas City, I was chosen to be the 25 year speaker, representing the Class of 1983.  My sermon for that service is included here.  
The World Called and I Answered-Final
Liturgies
I've created dozens of liturgies for groups, both large and small.  In addition to the "regular" Sunday morning worship services, I've been the liturgist for the annual BGLTQ Pride Services, (I'm including one example here) and a large-event "Women of Faith: Voices Against Violence," 2013.  (Poster only)
Use of both contemporary and classical instruments in a service.  "God's Bod and Yours," April 7, 2013. I'm including a script for a service that was done in April 2013.  This service is one of the best examples of using a variety of musical styles in one service.  The theme for the month was "God's Bod" and we were exploring the relationship between the body and the spirit.  In this service, we used both the Free Spirit Band to perform Arcade Fire's "My Body is a Cage," as accompanied with the church organ.  It created a total mind-body-heart experience.  Too bad we didn't videotape the service!  You could have felt the vibrations from the organ and the pulse of the bass and drums in your bones.  To hear a podcast of the service, click here.
Sermons from 2015-2016.  If you'd like to visit the sermon archive page from the last year of my ministry, at West Shore, click here.